07mar(mar 7)7:00 pm09(mar 9)4:00 pmWomen Of Destiny Conference on March 7-9, 2019 in Taylor, Michigan!The Premier Women's Conference and Movement in the 21st Century
Event Details
Women of Destiny Conference on March 7-9, 2019 ft Pastor Pamela Kemp, Prophetess Michelle Brannon, Mother Helen Woods, Dr. Louise Lyas, Prophetess Kathleen Woods, Pastor Judy Adom, Psalmist Vickie Winans and Apostle David E. Taylor! Location:

 

20320 Superior Road, Taylor, Michigan 48180

 

Free Registration Available at:

https://www.eventbrite.com/e/womens-conference-with-david-e-taylor-tickets-55257094457

 

For More Info:

http://www.joshuamediaministries.org

 

1-877-843-4567
Preparing Women to Fulfill Their Destiny and Purpose in God's End Time Army!!
About this Event
Ladies come and learn treasures and mysteries of how to truly become the woman, wife, and mother that God has called you to be! You will be renewed and refreshed after this conference and will not walk out the same way you came in!
The entire event is free including the luncheon March 9th at 1pm est.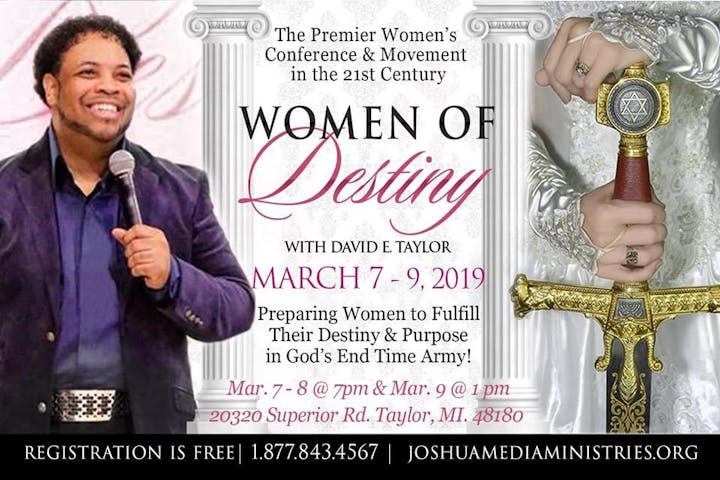 Time

7 (Thursday) 7:00 pm - 9 (Saturday) 4:00 pm EST
JMMI International Ministries20320 Superior Road
Organizer