22oct(oct 22)10:00 am27(oct 27)7:00 pmDr. David & Pastor Mimi Philemon and Church on Fire International Invites YOU to their 13th Anniversary ft George Izunwa, Richard Liardon, Adrienne Bynum Terry, Pastor Seun, Psalmist Lois!
Event Details

You are invited to our 13th Anniversary Celebration (Hosted by Church on Fire International) Tuesday, October 22 — Sunday, October 27, 2019
About this Event
Church on Fire International (COFI) invites you to join us for its 13th Anniversary Celebration.
THEME: THERE IS AN ARMY RISING UP
DATE: Tuesday, October 22, 2019 — Sunday, October 27, 2019.
TIME: 10:00 a.m. & 7:00 p.m. daily (Please see detailed schedule below)
LOCATION: Church on Fire International — 4836 W. 13th Street, Cicero, IL 60804
Can you hear the Spirit screaming? THERE'S AN ARMY RISING UP! IT'S TIME TO TAKE YOUR PLACE!
It's been 13 years of the incredible, indescribable, ineffaceable, insurmountable, indelible, help of God! His presence, power, faithfulness, grace and mercies have been our stronghold. Thus far, the Lord has helped us. Now, it's time to soar and transform territories entrusted to us.
GUEST SPEAKERS & MUSICAL ARTISTS include:
Guest Speaker, DR. ROBERTS LIARDON: Author of the book GOD'S GENERAL, Public Speaker, Spiritual Leader, Church Historian, and Humanitarian.
Guest Speaker, REV. GEORGE IZUNWA: Lead Pastor of Gateway International Church in Port Harcourt, Nigeria. He is called, anointed and commissioned by God to 'Go teach my people strength'.
Guest Artist, PROPHETESS ADRIENNE BYNUM TERRY:Prophetic Worship, Psalmist and Minister of the Gospel.
Guest Artist, PASTOR SEUN & PSALMIST LOIS: Pastor Seun is an Evangelist, Revivalist, Prophetic worshiper and Teacher of the word. Psalmist Lois is a music minister, songwriter, recording artist, and a passionate lover and worshipper of God.
We are specially inviting you, your household, friends and loved ones to this grand celebration and impartation that will raise, position and empower you to take your place in the move of God to become all that God has ordained for you!
You won't be left out! You can't be left out! You won't be left down! You can't be kept out! You're on your way to the top! You will get there in Jesus precious name.
WE HOPE TO SEE YOU THERE!
For more information, please contact us at (773) 715-2483.
#RevivalFire #DrDavidPhilemon #COFI #Ultimate #Power #TheUltimate #Soar #Greater #Works #13thYearAnniversary #TheresAnArmyRisingUp #TakeYourPlace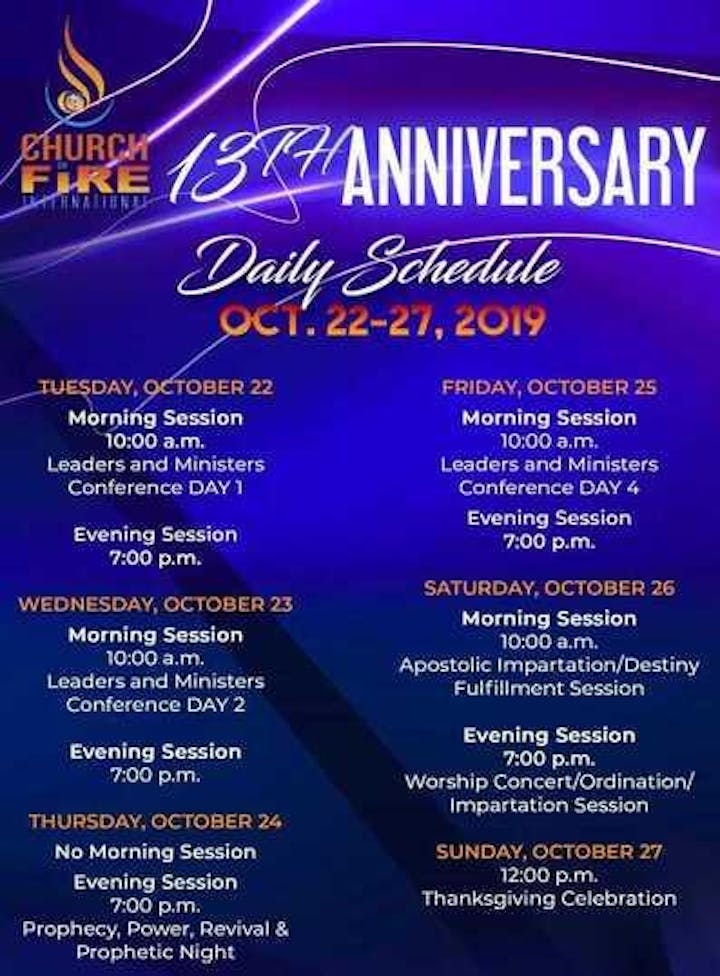 Time

22 (Tuesday) 10:00 am - 27 (Sunday) 7:00 pm CST
Organizer